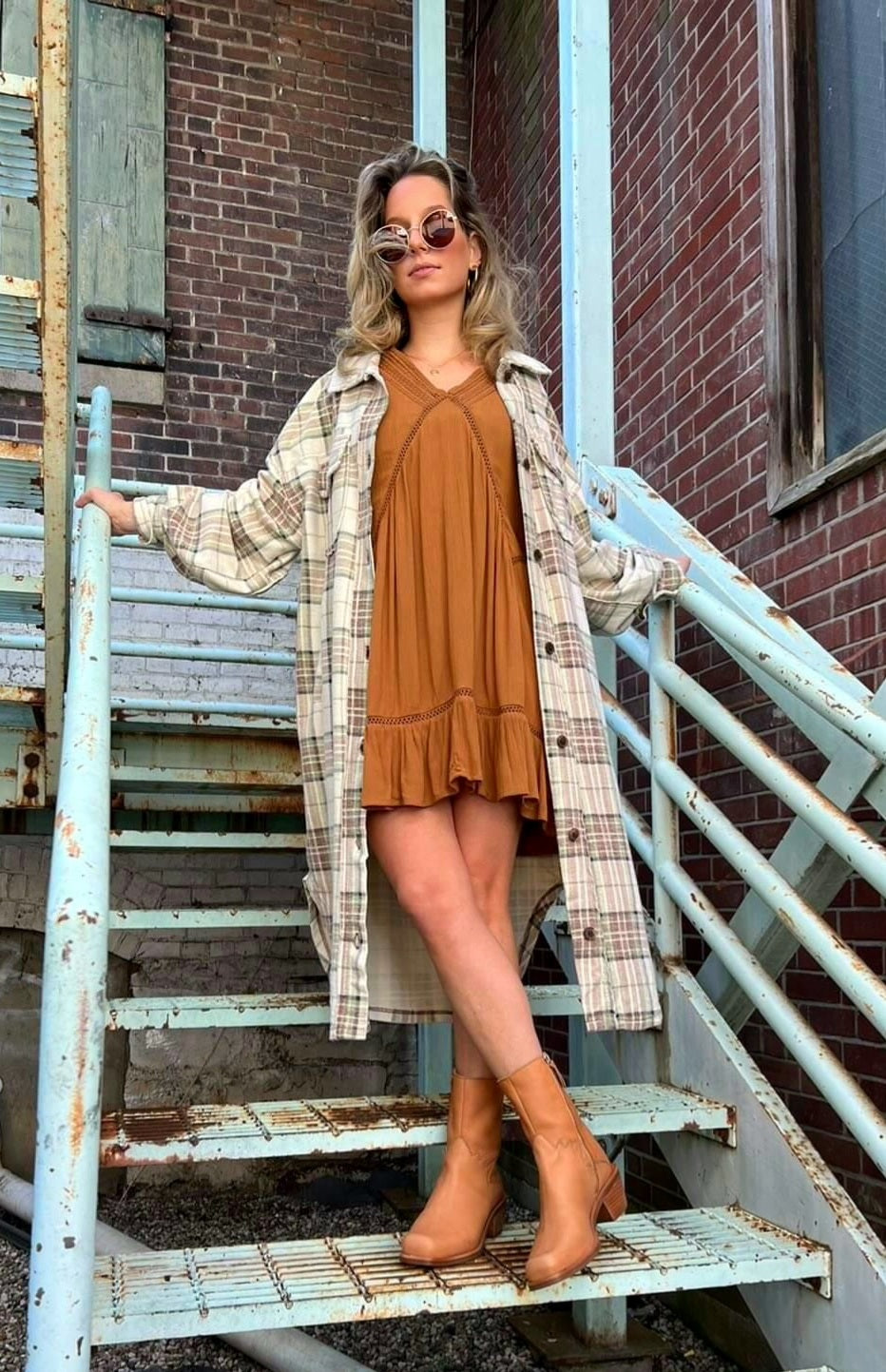 Our Favorite Shacket Looks For Fall
Functional and fashionable, the shacket is this season's most effortless trend. We're here to provide some inspiration. 
If you're at all familiar with the must-haves for fall this year, you know that shackets are toward the top of the list. 
The versatile jacket/shirt hybrid is not as heavy duty as a winter coat, yet still thicker than your average shirt — making it the perfect item to have on hand for a 'throw-on-and-go' option when you need an extra layer of warmth. 
We find that having a few different styles and colors is essential to your wardrobe. A good reason to build a solid shacket collection is that they truly carry you through the majority of the year.
Shackets are a closet staple that span fall, winter and spring. Even some cooler summer mornings and breezy evenings — like we tend to have in Vermont — can be made better by having a reliable shacket on hand. 
As we've started transitioning seasons, you'll see more of these beloved styles sprinkled throughout our boutique. A shacket can be worn with almost anything, which makes it an obvious choice to pick up. 
Since we're such big fans of the style, we've put together a few fun looks to inspire you to embrace this cozy, essential trend this fall. 
First, the Harmony Coat from Gentle Fawn is great for a polished professional look. The sophisticated silhouette makes it a great finishing touch to elevate your outfit, while the soft, neutral color adds easy versatility. The structured, yet oversized fit allows you to comfortably layer over chunkier sweaters as well. 
We love styling this quality crafted shirt jacket with straight leg jeans and a pair of sleek heeled booties, like the Sienna Ankle Boot. Add in some delicate layered necklaces and a stylish hat to complete the look. 
Next, one our most popular shacket offerings is the Ruby Jacket from Free People. This solid women's shirt jacket is the epitome of casual cool style and comes in a variety of colors to add into your wardrobe. 
We can guarantee that this will become a go-to option for you. So ridiculously soft and comfortable, it's like having the comfort of a blanket paired with on-trend style. 
Pairing the oversized fit of this shacket with a cropped top and slim leggings provides you with a balanced look. While this is great for pairing with any athleisure wear, we like to amp it up a notch by opting for faux leather leggings and a lace-trimmed crop top. Add in some lace-up boots, like the Lukie Combat Boot, and you're ready to serve an edgy yet feminine look. 
Continuing with the Ruby Jacket, we love how the long, plaid version of this women's shacket can offer up an entirely different style for you.
This beautiful plaid layering piece gives us the perfect balance of structure and drape. Pairing it with a flowy mini dress and some ankle boots — like the Ojai Bootie from local Vermont maker Bird Of Flight — make for a refined and modern look that will turn heads.
Whatever your style might be, there's something universally exciting about finding a piece of clothing that offers style, comfort and versatility. 
It's easy to see why shackets are becoming a closet mainstay. We invite you to browse our expanding collection the next time you're shopping in downtown Burlington, or shop our online selection anytime. We can't wait to help you settle into the coziness of the season with your new favorite fall trend.