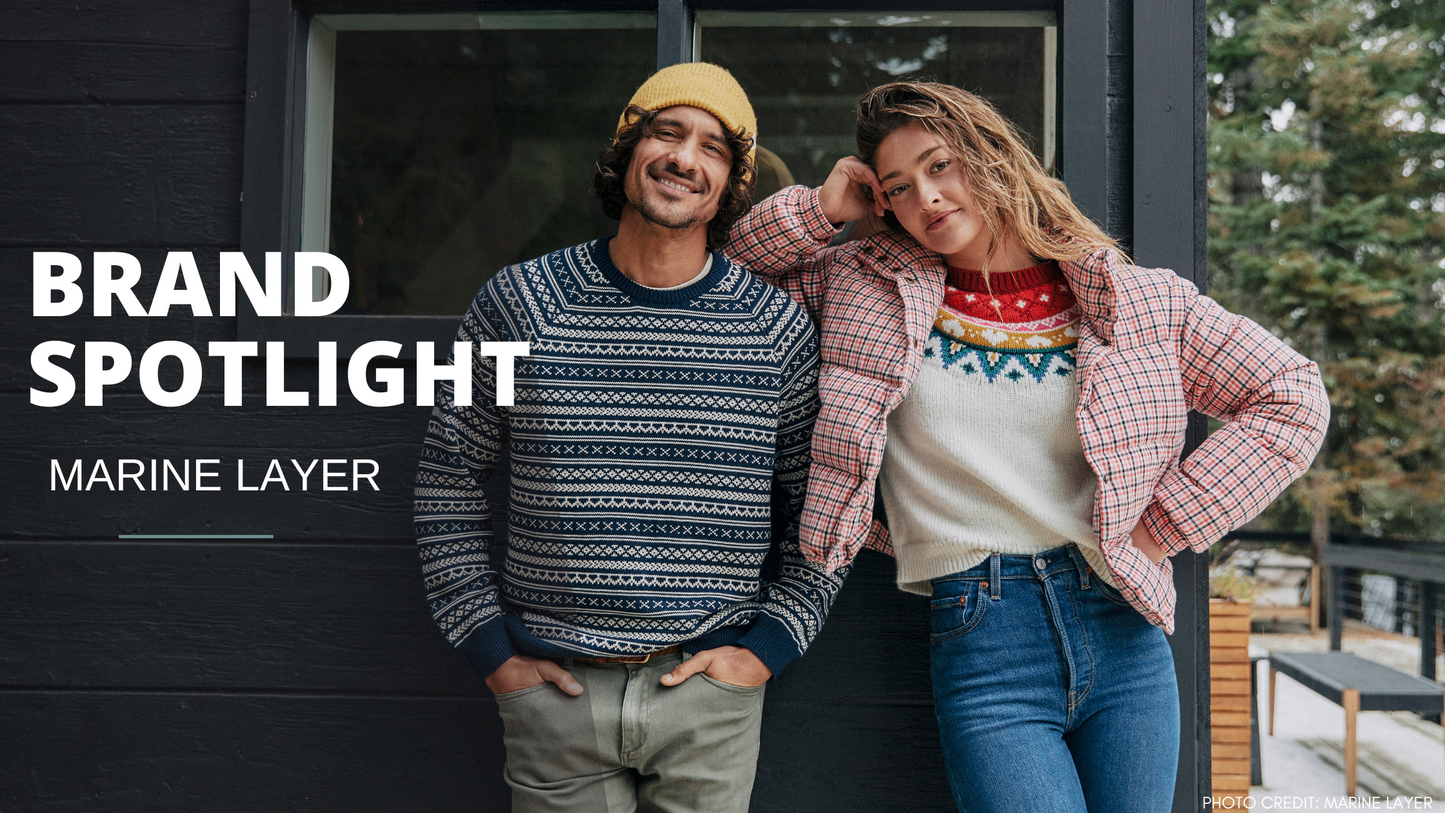 Brand Spotlight: Marine Layer
Get to know a brand we're passionate about.
At Harbour Thread, our customers come back for both trendy and classic clothing, and we love helping you find exactly what works for you. 
We also love knowing we provide the opportunity to discover and learn about new brands that we're fired up about. 
One brand that has really kept our fashion hearts fluttering is Marine Layer — a clothing brand based out of San Francisco, gracing us all with casually cool timeless pieces that will be a part of your wardrobe for years. 
Eden Sherpa Overshirt
Inspired by this chill clothing company, we wanted to share why we love having this brand as a part of our men and women's clothing offerings and paint a better picture of their style and mission, in hopes that you'll join in on the love fest for them. 
Ryan Midi Slip Skirt
First, let's set the stage for their vibe. Browse their Instagram and you'll find a post showing us a woman with a drink in hand, wearing a relaxed skirt and an oversized sweater dancing to a song called "Lemonhaze" around her living room, as an equally cool dressed man comes in from the kitchen to join her. They dance and laugh together in their ultra-stylish California cabin home as the caption simply reads, "Clothes should feel like this". 
Yes. Yes they should (we say as we shake our heads out of that daydream), and we think this perfectly encapsulates how chill and carefree, yet polished the style of this brand is. You'd be hard pressed to find someone who doesn't want to feel like that, and we wanted to bring some more of that laidback coastal dreaminess to Burlington. 
Archive Apres Puffer
Since we started carrying Marine Layer in our little Church Street boutique, we've become huge fans of this brand — from the quality, to the fit, to the effortless style that doesn't take itself too seriously — we find ourselves obsessing over every piece that comes in, whether it's for the women's store or a part of our men's clothing options. 
Marine Layer's evolution started when the brand's founder learned his girlfriend had thrown out his favorite old vintage t-shirt. Determined to find a replacement t-shirt that would instantly feel just as soft and lived-in as his long-gone favorite, he thoughtfully developed a custom fabric, got his friends to come work with him, and "built a brand around absurdly soft shirts that are perfect for a 7-day weekend kinda lifestyle", according to their website.
We can confirm the insane softness of their easy to style clothing. It's the kind of unbelievable softness that you won't want to take off, so you'll feel stylish while also getting to feel completely comfortable in what you're wearing. 
Archive Snowbird 1/4 Zip Sweater
Beyond style, it's also important to our Harbour Thread team that we make an effort to carry sustainable, mission-driven brands who care about their environmental and social impact. Marine Layer definitely checks all of these boxes. 
They have a unique 're-spun' program where customers can send in their old t-shirts and receive a $5 credit back for each piece, up to $25. This aids in their mission of being committed to keeping textiles out of landfills and using recycled materials across their entire line. 
Since launching this program, they've saved hundreds of thousands of previously loved tees from landfills and have saved billions of gallons of water using re-spun cotton. 
Archive Summit Sweatshirt
With the perfect pairing of style and sustainability, Marine Layer lives out their statement of being dedicated to "building a responsible and sustainable business that takes care of our community and our planet". 
Browse our boutique and you'll find it's no secret that we have a clothing crush on Marine Layer's light-hearted look, but beyond style, we think it's so important to share and highlight such a sustainable and ethical brand in this world of fast fashion. 
Knox Fairisle Sweater & Archive Alpine Sweater
The next time you're shopping for women or men's clothing on Church Street, stop on in and check out our Marine Layer offerings for yourself. You'll know them when you see them — their pieces fill pockets of our shop with laid-back, feel-good vibes that you'll want to be a part of, and we think you'll find a new favorite that you now know the story behind.