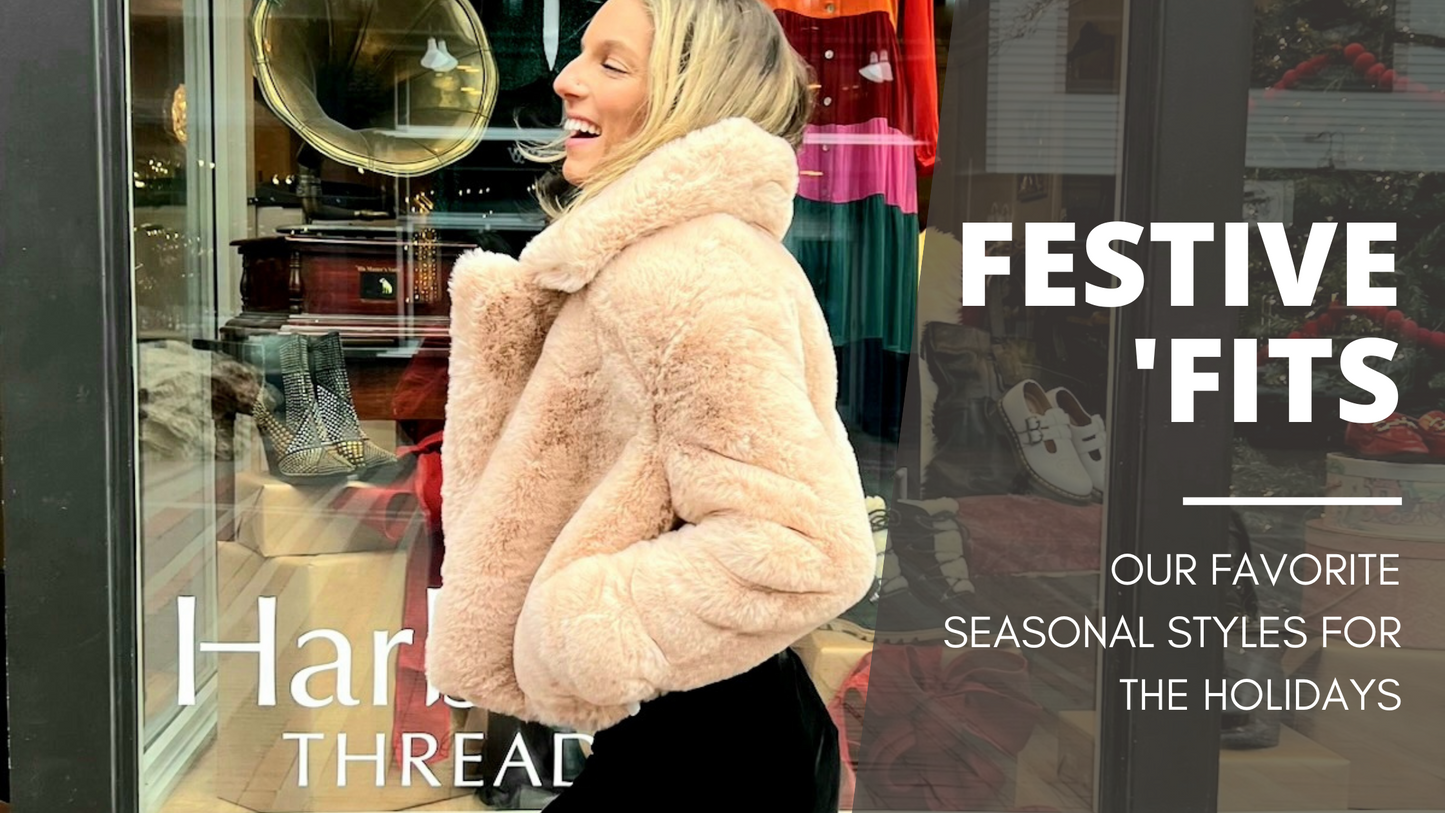 An inside look at our favorite styles for the 2022 holiday season.
Ahh December — when the dark rolls in before you're clocking out for the day, the chill in the air is undeniable, and the weekends are filled with plans to spend as much time as possible celebrating with friends and family. 
We're lucky enough here at Harbour Thread to have been through nearly 20 holiday seasons as a part of the Church Street Marketplace community. 
Free People All Night Fur Jacket
This month is filled with festive occasions all the way through 2022's end when we count down to a shiny new year, and we're letting you in on a few of our favorite holiday clothing trends to help drum up inspiration for your celebrations. 
Shimmer and Shine
After another long year, you deserve to shimmer like the sun dancing across the waves of Lake Champlain, so go ahead and add a little sparkle to your life!
                 Free People Emmaline Cardi | Annalise Velvet Mini Skirt                        Jeffrey Campbell Maximal Knee High Boot
From Free People to our local friends at Commando, we have an amazing selection of sequined skirts, tanks, and long sleeve tops to adorn yourself with. 
Luxurious Velvets
Rich velvets are a prominent trend this year, and one that's perfect for elevating your holiday style. 
Pair a bold patterned velvet babydoll dress with some knee high boots, or opt for a velvet mini dress that boasts a solid, sleek silhouette. Wanting to keep it subtle? You can't go wrong with a black velvet button up. 
Add the perfect final touch with a luxe velvet blazer, or even go for a one-and-done outfit with some velvet overalls that give stand-out style. 
Free People 90's Forever Overall | Jeffrey Campbell Emilia Boot                 MINKPINK Savannah Intazia Coatigan
From sweaters, to mini skirts — even down to footwear — whatever velvet items you're crushing on, we've got you covered. 
Beautifully Bold
It's easy to hide in black this time of year, but don't be afraid to stand out in brighter colors — especially at your holiday gatherings.
Rolla's Dallas Vest | Rolla's Eastcast Flares | Kork-Ease Tinsley Clog
Bold stripes add the perfect pop to liven up any outfit, almost as much as the hot dinner table topics that are sure to be brought up at this year's family functions.
We also love the idea of going all out and perfectly pairing Rolla's holiday hued corduroy vests and flared pants for an incredible seasonal look that will turn heads. 
Don't forget to go big and throw on an essential final layer with a glamorous faux fur coat to top things off. 
Faux Leather Love
There are so many reasons to rock faux leather this holiday season. It adds a glamorous yet edgy feel to any outfit while also allowing for a flattering and comfortable fit. 
Commando Faux Leather Crop Top | Free People Annalise Sequin Mini Skirt           
Pair faux leather leggings with a sequined or plushy top. Wear a faux leather skirt with a tucked sweater. Whatever your occasion, faux leather crop tops are another great option for bold holiday style. 
With an assortment of options in seasonal shades, we'll help you find the perfect faux leather look. 
Classic Cool
Ahh the classics. This time of year is filled with them - movies, songs, food, decorations - 'tis the season for classic comforts, so let your winter wardrobe reflect this as well. 
O'Neill Cala Super Sherpa Jacket 
Our selection of timeless sweaters and jackets are perfect for the holidays and are anything but "ugly". Pair a classic sweater with your favorite jeans for a smart, casual look that will last for seasons to come. 
Sweaters aren't the only iconic options for the season, though. The holidays are filled with special events, from weddings to upscale holiday parties. We suggest adding a timeless dress from the Harbour Thread private label collection to your wardrobe for a stunning option that's always in style. 
While you're out shopping on Church Street, drop on in to our boutique and let us help you build your perfect outfit for the holidays. 
Don't fret if the cold weather has you wanting to stay inside. You can shop our full collection of stylist holiday favorites online from the comfort of your own home. 
So, whether you plan to rock around a Christmas tree, have a silent night or party like it's 1999 when that ball drops, we encourage you, as always, to adorn with abandon.